BAKTH 9.6V 2000mAh Rechargeable NiMH RC Battery with Tamiya Connector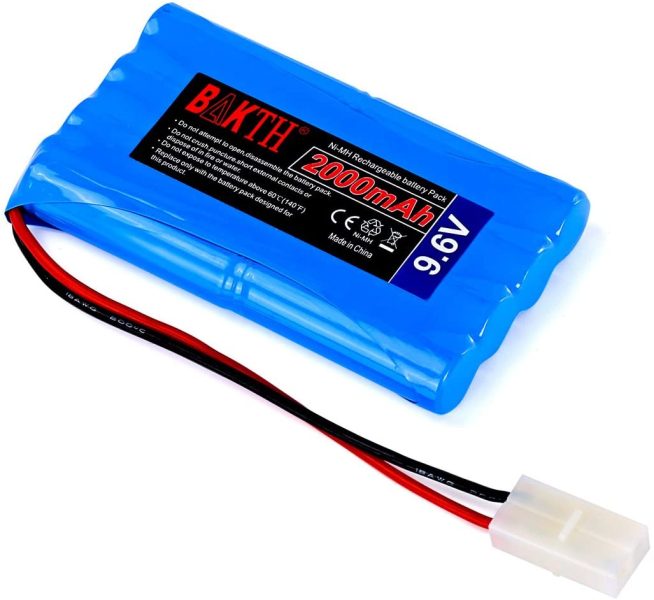 Powerful output
Holds a charge very well
Allows for a long run time
CLICK FOR PRICE
iMah 7.2V AA Battery Pack with Standard Female Tamiya Plug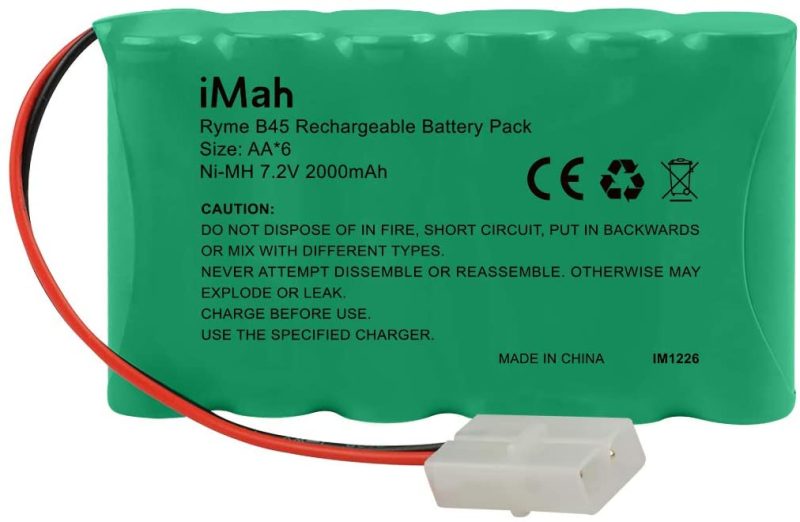 Can last for a long time with compatible cars
An improvement over the original
Recharges quickly
CLICK FOR PRICE
Flylinktech 2 Pack 7.2V 5000mAh NiMH RC Car Rechargeable Batteries for RC Cars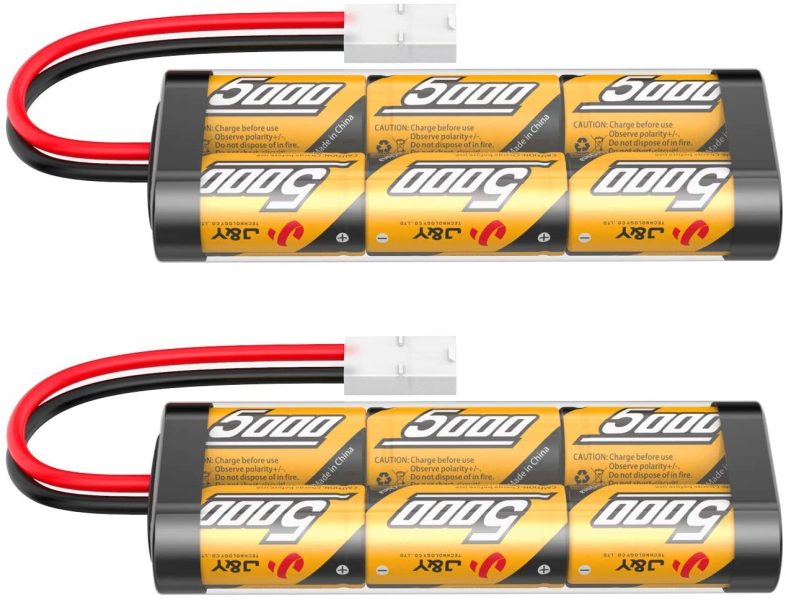 It is compatible with many RC cars
Long battery life
Strong current
CLICK FOR PRICE
Introduction
An RC car won't go far at all without the right batteries. Here are the best RC batteries that offer long-distance coverage many factors gogo into what kind of time you have with your remote control car. Whether it be the speed, wheel size, or power, it all affects the performance of the RC and how much fun you have with it.
One factor that should not go overlooked is distance coverage. Distance coverage is just as important as remote control car battery charging time or what kind of material it is made out of. You don't just want your remote control car to take it to the next level, you want it to take you far. Someone may want to upgrade their remote control car battery for any number of reasons. Maybe their old battery is not doing the trick anymore, or maybe it just never did in the first place.
Either way, you can easily replace it so long as the new battery is compatible. Before you go scrounging for a new remote control car battery pack for your remote control car, check out the best RC car batteries for long-distance coverage below. Take a peek at the battery you already have and double-check to make if they are compatible with your remote control car or not.
You Can Read Our Blog for getting Detailed Information On Remote Control RC Cars 
Top 4 Best RC Cars Batteries
1.  BAKTH 9.6V 2000mAh Rechargeable NiMH RC Battery with Tamiya Connector

This battery is powerful. The BAKTH sets the bar high with a 9.6V 2000mAh battery. It is small in size, only 3.94" long and 2.28" wide, and connects easily. It is also excellent when it comes to safety. The BAKTH has overcharge protection, over-discharge protection, and on and short-circuits protection. Because the battery is so strong, you can expect an uptick in playtime on your remote control car runs.
It uses the classic Tamiya connector so if you are familiar with remote control car batteries, nothing should come as a surprise to you. It only weighs just barely over 8 ounces, so if you are worried about it weighing your RC down, don't be. This battery ensures that you can take your RC far away from a run and back without worrying about power discharging rapidly.  
Pros
Powerful output
Holds a charge very well
Can power RC car for a while before it starts to gradually slow down
Allows for a long run time
2. iMach 7.2V AA Battery Pack with Standard Female Tamiya Plug

If you are looking for a long-lasting battery pack for your RC that can give you well over the typical playtime allowed by RC cars on any Racing track, check out this image. This remote control car battery 7.2v 2000mAh is easily rechargeable and features a Tamiya plug.
The real kicker with this battery pack is that it can extend the run time on your remote control car by two or even three times. For example, if you have a 20-minute running time, this battery pack may last you up to 40-60 minutes if used with compatible RCs.iMach keeps it simple and lightweight. They also provide a lot of customer support so if you have any trouble with the battery, you should get a response back from them quickly. 7.2V is plenty of power and it makes a noticeable difference. Check it out for yourself.
Pros
Can last for a long time with compatible cars improvement over the original
Recharges quickly
Cons
It can be a tricky fit for some RC carsThe battery does not always last long
3.  Flylinktech 2 Pack 7.2V 5000mAh NiMH RC Car Rechargeable Batteries for RC Cars

This remote control battery pack is compatible with a very wide range of remote control cars. It is high voltage and has a continuous, strong current to allow for smooth and consistent power. The battery is 7.2V and 5000mAh and is a nickel-metal hydride (NIMH) battery.
It is designed specifically to meet the standards of racing performance. You can expect between 30 and 45 minutes of run time, but that can vary from person to person based on their remote control casetupup.
Be sure to check if it is compatible with your remote control car or not. One thing is for sure, this battery can get your remote control pretty far. If you keep it charged, you will notice that it consistently gives you fast and even runs that help you get the most out of your remote control car.
Pros
It is compatible with many RC cars
Long battery life
Strong current
Cons
Capacity might be a little under 5000
In rare instances, it has the possibility of leaking
4. Zeee 7.2V 3600mAh RC NiMH Battery with Tamiya Plug for RC Car RC Truck

The Zeee 7.2V RC NiMH battery is high capacity and holds a charge well. It has six cells and can hit a maximum capacity of 3600mAh which means you can get plenty of power out of it. You also don't have to worry about fully discharging your battery before throwing it on the charger. This battery has no memory so you can charge it whenever it is the right time for you.
You may have noticed that there are a lot of remote control car batteries that require you to drain the battery until it is dead before you can charge it, but not with this one. It smoothly and steadily discharges throughout its battery life.
This great remote-control battery lets you get a lot of action out of it.
Pros
The batteryy has no charge memory
Easy installation
Has a money-back guarantee
Cons
The wires do not seem too sturdy
Factors to Consider When Choosing the Best RC Car Battery for Long-Distance Coverage
Hopefully, the best RC car batteries above were helpful for you and seem like a good fit for your remote control car. With that in mind, there are some things to look for specifically when searching for an RC car battery such as:
Compatibility with your current remote control car
What kind of voltage and mAh output does  it have
The type of connector it has
The material the battery is made out of
Pay attention to those things, and they may help you choose which battery is for you. What the battery is made out of, for example, can be a big factor for some people. Typically, when it comes to remote control car batteries, you will find that they are made out of lithium-ion polymer, alkaline, or nickel-metal hydride, and those, particularly NIMH, are the most effective.
Remote control car battery connectors are also important because they affect compatibility. There are several types of connectors, and many of them are compatible with a wide variety of remote control cars. In some cases, you can get adaptors, but that does not always work for every battery or for every RC.
If you have a basic understanding of RCs, you should have no trouble looking out for the right thing. Familiarize yourself with remote-control car battery isolators, connectors, battery types, and power outputs to get an understanding of which would work best for your own RC.
Tips for Maximizing the Battery Life of Your RC Car
Maximizing the battery life of your RC car is essential if you want to achieve long-distance coverage. One of the most important things you can do is adjust the gear ratio of your car. This can help reduce the load on the motor and battery, allowing them to run more efficiently. You can also try using the right charging method. Some batteries require a specific type of charger, and using the wrong charger can damage the battery and reduce its lifespan. It's also important to avoid over-discharging your battery. This can damage the battery and reduce its overall capacity over time.
Storing your battery properly is another key factor in maximizing its lifespan. Be sure to store your battery in a cool, dry place and avoid exposing it to extreme temperatures or direct sunlight. It's also important to avoid storing your battery for extended periods while it's fully charged or completely discharged. Instead, aim to store your battery at around 50% charge to help prolong its lifespan. By taking these steps to maximize the battery life of your RC car, you can enjolong-distancece coverage and ensure that your battery lasts for as long as possible.
Conclusion- Change The Battery
If you are going to upgrade to a battery that will give you long-distance coverage, you have many great options. Think about what you want to get out of your remote-controlled car and choose a battery that will help you achieve it. Not everyone needs the fastest, highest-tech RC, but they probably need one that offers a lot of coverage and runs time.
Not all RC car batteries have that these days, so it is nice to have remote control car batteries like the ones above. Sometimes, the battery that a remote control car comes with just doesn't cut it, or eventually, a time comes when you want to upgrade.
FAQs
Q: What best RC Cars Batteries for Long Distance Coverage?
A: A battery suitable for long-distance coverage in RC cars should have a high capacity (measured in milliampere-hours or mAh) and low internal resistance. High capacity ensures that the battery can provide enough power for extended periods, while low internal resistance ensures that the battery can supply the required current to the motor without overheating or damaging itself.
Q: How do I know if my RC car needs a new battery for long-distance running?
A: If you notice that your RC car is running out of power quickly, even after a full charge, or if the battery is taking longer than usual to charge, it may be time for a new battery. You can also check the voltage of the battery using a multimeter. If the voltage drops below a certain threshold, the battery may need to be replaced.
Q: Can I use any battery in my RC car or are there specific types recommended?
A: It is recommended to use batteries that are specifically designed for RC cars. These batteries are usually labeled as "LiPo" or "LiFe" batteries and have a specific voltage and capacity rating that matches the requirements of the RC car. Using non-RC batteries can lead to performance issues or even damage to the car or battery.
 Q:What are the most important factors to consider when choosing a battery for my RC car's long-distance coverage?
A: The most important factors to consider when choosing a battery for your RC car's long-distance coverage are its capacity, voltage, discharge rate, and physical size. Capacity and voltage determine how much power the battery can supply, while discharge rate determines how quickly the battery can supply that power. Physical size is essential because the battery must fit within the RC car's compartment.