Introduction
Haven't you noticed that punch buggies are being replaced by electric buggies so fast? Certainly, you might have noticed this rapidly increasing change these days. RC electric buggies are becoming common these days because you don't need fuel to run these vehicles and have fun. Just charge their batteries, start the push button and you are good to go. The main purpose of using these RC vehicles is to spend valuable time having fun or having a competition with your buddies. This impressive machine is engineered to provide you with the ultimate off-road experience, and it's sure to offer hours of enjoyment for both children and adults.
With its sleek design and potent engine, the Electric RC Buggy is capable of conquering even the most challenging terrain, including rocky hillsides and sandy dunes. Therefore, if you're prepared to elevate your off-road adventures to the next level, keep reading to find out why the Electric RC Buggy is the ideal toy for you!
Checkout Our Blog For Getting More Information On Remote Control Vehicles 
What is an Electric RC Buggy?
Electric RC buggies are small battery-powered remote-controlled cars that come in various shapes and sizes. These buggies are designed to be driven off-road and can perform incredible stunts and jumps. They come equipped with high-performance motors, durable wheels, and suspension systems that can handle tough terrain.
RC buggies are controlled by remote or through a transmitter. The amazing thing is that you don't need to be closer to your vehicle to run or operate it smoothly, you can control its movements even at a distant place. In recent previous times, RC buggies were controlled through a wire which used to be attached to them. There was a very small wire or long wire attached to these vehicles, and you were supposed to have fun with these limited-extent vehicles.
But now, RC vehicles are controlled by radio frequency which is the reason you can use the remote or transmitter even at a distance and have fun by using the vehicle and controlling its movement. Unlike conventional RC vehicles, modern RC vehicles are powered by electric sources. The batteries are placed inside the RC vehicles, you need to charge them and then you can run these vehicles easily to amuse yourself.
Types of Electric RC Buggies
1. 2WD Buggies
2WD buggies have power only to the rear wheels and are ideal for beginners. They are lightweight, fast, and easy to handle.
2. 4WD Buggies
4WD buggies have power to all four wheels, providing more control and stability on difficult terrain. They are suitable for experienced hobbyists who want to take their skills to the next level.
3. Stadium Trucks
Stadium trucks are larger than traditional buggies and have a longer wheelbase. They can handle rough terrain, jumps, and bumps with ease.
4. Short Course Trucks
Short-course trucks are designed for racing on closed tracks with obstacles and jumps. They have a more realistic appearance and are perfect for competitive racing.
Unique Features of The Electric RC Buggy
Electric buggies have a lot of unique features which surpass the previous types of punch buggies. In this article, we have compiled well-researched information which will help you to explore the traits of RC electric buggies and you will be better able to know them.
Powerful Motor and Suspension System
The Electric RC Buggy is equipped with a powerful motor and advanced suspension system that allows it to navigate rough and uneven terrain with ease. The motor provides a high level of torque, which translates into superior acceleration and top speed. The suspension system absorbs shocks and bumps, providing a smooth and stable ride even on the toughest terrain.
Rechargeable
RC electric buggies run on batteries and these batteries are rechargeable. Unlike its previous version which used to be run through an attached wire or through gas or any other fuel, RC electric buggies will provide a real thrill as many times as you want by charging their batteries through electricity.
The performance of RC electric buggies doesn't get spoiled even if you charge them on daily basis. There is a life for everything and if you will keep your RC electric buggy carefully, certainly you will be able to enjoy its rides for a longer period of time.
High speed
With RC electric buggies, your joy will get doubled because the high speed of the e-buggy will take you to the next level of excitement. With conventional buggies, you don't have that much speed joy but with RC e-buggies you will enjoy an exceptionally high speed.
High extent
As RC electric buggies run on rechargeable batteries, you will have to just charge them to reach on a higher level. You can charge the battery to full capacity and you can go as long as you want. Its power will not die after some time, and you will have a sufficient amount of gaming time with this e-buggy.
Great Value for Money
Compared to other remote-controlled vehicles, the Electric RC Buggy offers excellent value for money. It's a high-performance machine that can tackle even the toughest terrain, but it's also affordable and accessible to a wide range of hobbyists.
Precautions
While using RC e-buggy, you will have to take care of some prime factors, which we have enlisted for your guidance.
Don't go beyond the specified speed of the electric buggy. The speed of RC electric buggies is determined by the wheels, motor, batteries, balancing, etc. If you want to enjoy gaming or competition with your friend, we would advise you to check the maximum speed limit of the buggy. If you would go beyond the maximum extent of speed or tried to use it on an opposite terrain, your buggy can be affected by the inner machinery.

Use the RC electric buggy on the terrain which is compatible with the tire type. RC tires should be placed according to the model and capacity, and compatibility of the RC vehicle model. If your RC vehicle model supports knobby tires, you can have more freedom in using your vehicle. Because knobby tires are called all-terrain supportive and with them in your RC vehicle, you will be able to run your electric buggy on any terrain.

The wheel alignment also needs to be checked while using an RC vehicle. As the performance of the vehicle is directly associated with the wheel performance, you should pay heed to the alignment of wheels for a smooth riding experience.

Check the brand name while changing any body part of your RC electric buggy. Normally, in electric buggies, batteries are required to be replaced. So, take due care while replacing them rather would have to pay extra or go for changing that part again after some time.   
How to Choose the Right Electric RC Buggy for You
Choosing the right Electric RC Buggy can be a daunting task, especially if you're new to the hobby. Here are some tips to help you find the perfect vehicle for your needs:
Determine Your Budget
The first step in choosing the right Electric RC Buggy is to determine your budget. There are models available at a range of price points, so it's important to decide how much you're willing to spend before you start shopping.
Consider Your Terrain and Driving Style
Different Electric RC Buggy models are designed for different types of terrain and driving styles. Consider where you'll be driving your vehicle and how you like to drive – do you prefer speed and acceleration or precision handling? This will help you narrow down your options.
Look for Key Features
As we discussed earlier, there are certain features that set the Electric RC Buggy apart from other remote-controlled vehicles. Look for models with a powerful motor, advanced suspension system, durable design, and easy-to-use controls
Check Reviews and Ratings
Before making a purchase, be sure to check reviews and ratings from other hobbyists. This can give you valuable insights into the vehicle's performance, durability, and overall value for money.
Best RC electric buggies
If you are confused between the so many varieties of RC e-buggies and can't figure out which one will satisfy your needs, you don't have to be worried further. We have enlisted a brief list of RC e-buggies that are best in price, performance, and durability. You can go through this list and can go for the one that appeals to you.
Some of the best RC electric buggies are listed below: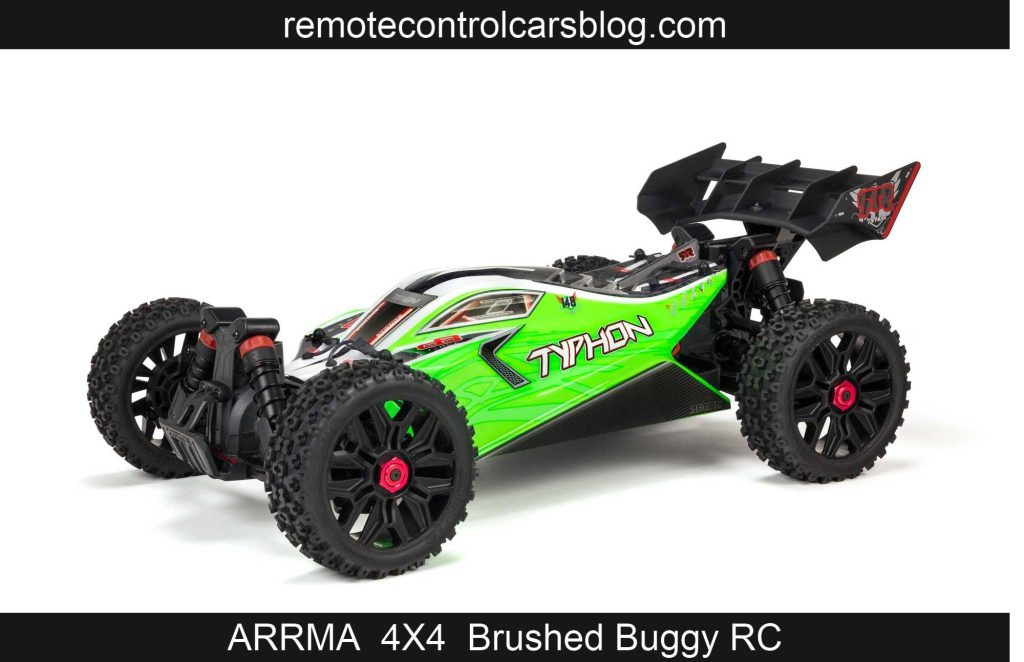 The ARRMA 1/8 TYPHON 4WD Electric RC Buggy is a high-performance remote-controlled vehicle that promises to deliver an exhilarating off-road experience. With a durable construction and powerful brushless motor, this buggy is designed to tackle challenging terrain with ease. In this review, we'll take a closer look at the features of this electric RC buggy and evaluate its performance.
[i2pc pros_icon="icon icon-thumbs-up" cons_icon="icon icon-thumbs-down" show_title="true" title="Pros & Cons" show_button="true" pros_title="Pros" cons_title="Cons" link_text="Buy On Amazon" link="https://amzn.to/3DPOPmZ" ][i2pros]High-speed performance up to 50+ mph
Durable and robust design with metal parts
4WD drivetrain for better traction
Waterproof electronics for all-weather use
Comes with a transmitter and receiver
Adjustable suspension for different terrains [/i2pros][i2cons]Expensive
Large sizes may not be suitable for indoors
Heavyweight
Requires a LiPo battery and charger
May require some assembly and setup time
Limited color options
[/i2cons][/i2pc]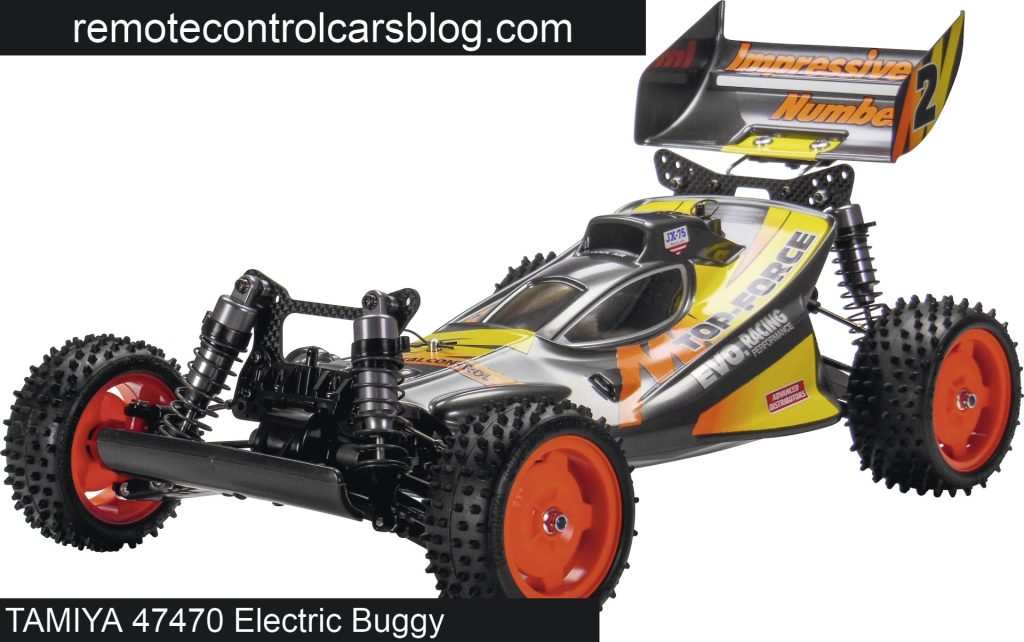 The TAMIYA 47470 ForceEvolution is an electric RC buggy that offers great performance and durability. It comes with a brushed motor, making it suitable for beginners who are just getting started in the world of RC cars.
One of the standout features of this RC buggy is its four-wheel independent suspension system, which allows for smooth and stable driving on rough terrains. The suspension system is also adjustable, which means you can customize it to suit your driving preferences.
[i2pc pros_icon="icon icon-thumbs-up" cons_icon="icon icon-thumbs-down" show_title="true" title="Pros & Cons" show_button="true" pros_title="Pros" cons_title="Cons" link_text="Buy On Amazon" link="https://amzn.to/3YvMRBD" ][i2pros]Powerful brushed motor
Solid construction with durable materials
Good handling and control
Smooth suspension system
Great for off-road use
Easy to maintain and repair
Well-designed body and decals [/i2pros][i2cons]Brushed motor is less efficient compared to the brushless motor
Expensive compared to other similar models
Some users may prefer a more customizable model
Battery and charger are not included
No waterproofing, limited use in wet conditions
[/i2cons][/i2pc]
 Conclusion
Electric RC buggies are an incredibly fun and exciting toy for people of all ages. When choosing an electric RC buggy, it is important to consider factors such as the motor type, battery type, suspension system, and chassis material. By taking these factors into account, you can find a buggy that suits your needs and preferences.
Once you have chosen an electric RC buggy, it is important to use it safely and responsibly. Always read and follow the manufacturer's instructions, and be sure to wear appropriate safety gear. Proper maintenance and care will also ensure that your buggy lasts longer and performs better.
FAQs
Can I use any battery with my electric RC buggy?
No, you should always use the type of battery recommended by the manufacturer to avoid damage to your buggy.
How do I charge the battery on my electric RC buggy?
You can charge the battery using the charger that came with your buggy or a compatible third-party charger.
How often should I perform maintenance on my electric RC buggy?
You should perform basic maintenance after every use and more extensive maintenance every few months or as recommended by the manufacturer.
Can I modify my electric RC buggy?
Yes, you can modify your buggy with aftermarket parts, but be sure to use reputable brands and follow the manufacturer's instructions carefully.